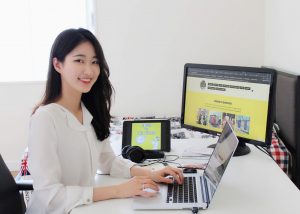 During these times of stress and uncertainty, we would like to highlight a few positive and uplifting stories from our J-1 participants.
This past month we hosted a Best 'Home-Office Photo' Competition for our J-1 participants. Hayoung, a Korea WEST participant interning at Go Gorilla Media in NYC, won first place with her photo: "Covid-19 cannot interfere with my passion for work."
"In this photo I was preparing for a remote meeting and doing market research for creating target advertising & guerilla marketing. I translated this COVID Comic Book in Korean which was a concept by my host company CEO with acclaimed illustrator Andrew Pinder. This COVID themed comic book has been provided for free to children and adults alike. It's fun, it's entertaining, and it's educational!"
Here is the link to download COVID Comic Book by GoGorillaMedia: COVID VS. THE WORLD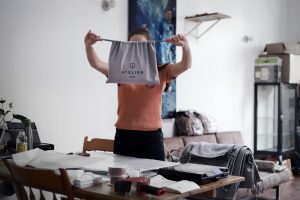 Another Korea WEST Participant, Yu Jeong, is currently interning at a boutique fashion company in NYC called 1Atelier. 1Atelier is a company that makes handbags, but has now shifted their focus and resources to produce masks for the people fighting the virus on the front lines. The first week of her internship is when the virus started spreading rapidly in New York City and she has been able to experience first hand how it has affected not only her host company but the culture and environment as well. Yu Jeong is working as part of their marketing team, more specifically Social Media Marketing and its place in the world of e-commerce retailing. She has become familiar with social media channels as it relates to the company, has reported and analyzed key metrics, and developed techniques for strengthening professional relationships. With the growing need for masks in the healthcare industry, Yu Jeong has more recently been working with their team to help launch their face mask initiative. The company is using materials and labor to make respirator face masks to provide to local healthcare facilities.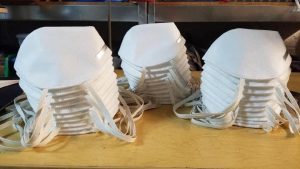 They also are partnering directly with one of the largest hospital systems in NYC to develop and manufacture an N95-type respirator mask to their specification, which they already started testing at the end of March. Despite the chaos around her, she has remained self-motivated and is very excited to be an expert social media marketer. She is glad that she can be part of it and contribute to society in a meaningful way. She recognizes that this is going to be an amazing story about her time in the US to take home with her back to Korea.
During this unsettling time, we are delighted to see participants like Hayoung and Yu Jeong continue to make such an impact on their communities.