This past March we asked our J-1 participants to share their cultural experiences with us in the form of pictures. The GACC CA Team would like to thank all participants for the high rate of participation. We thoroughly enjoyed receiving all photos and the uplifting stories behind them. In the end we received so many great photos that selecting the winners was very hard. The top three winners display photos whose cultural activities and experiences have inspired us the most- and hopefully will inspire you to make the most of your time in the US. Participating in an internship in the US is more than learning about the American business environment, but also about interacting with new people and immersing yourself in the culture.
Below are our top inspirational cultural experiences and the stories behind them.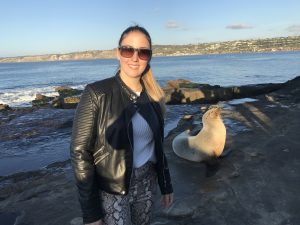 First Place: Elena from Germany interning at Murchison & Cumming LLP in Los Angeles, CA- "Loving the seals and sea lions in La Jolla! We did a two day trip to San Diego, where we also went whale watching. The seals in La Jolla were one of my highlights, because you could get so close to them. The seal behind me is enjoying the sun ️:)"
During her law trainee program, Elena has gained insight into a U.S. law firm, participated in client meetings and shadowed attorneys. She received thorough training in the US legal system so that she can gain a general understanding of the US law and California law of Civil Litigation and Corporate Law. She will be able to bring this new perspective of US law to Germany as she finishes her law degree.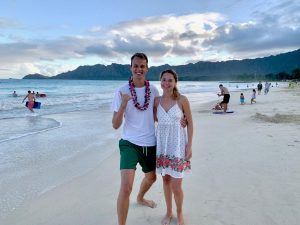 Second Place: Max from Germany interning at Swoop in Los Angeles, CA – "Everyone knows but does it have a name? Yes, it does – SHAKA. I spent some days over the winter break with friends in Hawaii. Don't you think we look pretty fresh for New Years Day? "
Max has been working as a Business Development trainee for Swoop. He has helped the company's partnership model and assisted with identifying potential strategic partners for the company. He supports partner relationship management activities, conducts business and operational analysis, identifies partner and acquisition candidates, and manages programs that play a vital role in Swoop's daily business operations.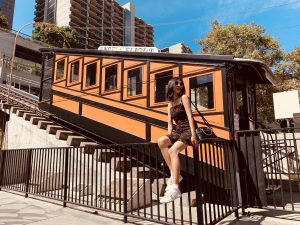 Third Place: Kyuri from South Korea interning at BENEV Company Inc. in Mission Viejo, CA- "I went to the Angel's flight, which was also shown in the movie called "LA LA Land". The little train was very cute and amazing, and I took a picture in front of the train."
Kyuri is a Graphic Design intern. She has learned how to develop brand identities and understands the company's technical and functional design requirements. She has been involved in projects for print graphics, trade show graphics and licensed products. She also has become proficient in Adobe applications such as Photoshop and Illustrator and has gained knowledge of the publication style, editorial guidelines and publishing requirements for the company's web site.