The Exchange Visitor Program has played a successful role in American public diplomacy for more than five decades, and the Korea WEST program specifically is a great example of this mission. The Korea WEST Program allows our students from South Korea to study English in San Diego followed by an internship, and then travel for one month at the end of the program. The language training includes traditional language lessons as well as coursework focusing on American business practices, U.S. corporate culture, and general business management aspects. The language, communication and cultural training portion for GACC California's Korea WEST Program take place at Q International School in San Diego, California.
Each year we receive great feedback from both our host companies and Korea WEST participants. Here are a few success stories from our 2018 Korea WEST program that we would like to share:
WEST Korea Program Participant Geonhee: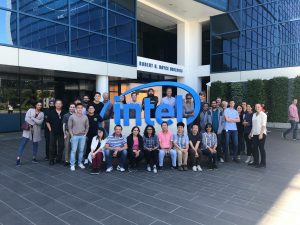 Geonhee successfully finished his internship at Nanosys in August 2018. Nanosys is a nanotechnology company located in Milpitas, California, founded in 2001. Nanosys designs products for displays based on quantum dots. Geonhee writes about his internship: (automatically translated from Korean)
"I have been in a state of technology, and I am working as a production & development intern at the company, which is located in the Milpitas of North of San Jose. … We are working with people who have various jobs and races and ages. About 100 people. As a typical American company, you can have a lot of friends by participating in the event of company picnic or company party, and company soccer team, and I have a lot of opportunities to talk in English. However, the people who do science have a lot of time to take a look at the samples, but there is a lot of time working alone, so there may not be a lot of things to do with friends, but through these events, if you hang out with your colleagues and enjoy it, it helps".
Korea WEST Program Participant Daeun: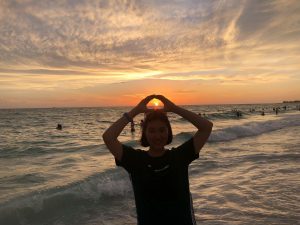 Daeun accepted a tourism marketing position at EuroUSA Travel in Lantana, Florida. EuroUSA Travel and Destination Management is a specialist in operations in North America, the Caribbean, Europe, Asia, South America, and the Middle East. They work to create creative and highly personalized programs, while also promoting environmental sustainability, social responsibility, and cultural sensitivity. See http://www.eurousatravel.com/
During her 6-month internship, Daeun's tasks included creating new marketing content, managing social media materials, working on marketing campaigns, and conducting industry research. Daeun writes about her internship: (automatically translated from Korean)
"Florida is called 'the sunshine state'. As much as it is, it is intense and beautiful again. …
Where I am is the area West Palm Beach area located close to Miami. There's a lot of great beaches here. I've seen a lot of good beaches when I'm in Europe, but I assure you, I'd like to say that these are the most fantastic and amazing beaches I've ever seen. I also heard that West Palm Beach is one of the world's 3rd most beautiful beaches. … This company is a company of small business scale with offices in Florida, Canada Vancouver, California, and Hawaii. … It's a lot of group travel, and there's a lot of private travel, too. It was nice to know about various areas while working in a travel agency, and I learned much about group travel. It's a small company, so I've got a lot of things to do. All of the staff took good care of me. I've been able to learn new areas through the WEST program and I think I've been able to experience it. I don't know how my career will go in the future, but I'm sure it's an experience that will help my career life".
Korea WEST Program Participant Eunkyung: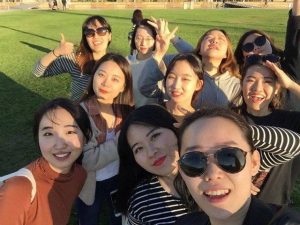 Eun-kyung is a 2017 graduate from Chung-Ang University in South Korea, majoring in Biological Sciences. Eun-kyung became interested in the health field during her internship in the lab at the Community Health Center in Gwanak. She then tailored the end of her studies to medical science. She has extensive experience working in laboratories and completed a semester abroad in the US at California State University. Eun-kyung was looking for general laboratory and administration experience within the cancer research field. Eunkyung Lee writes about her internship at Jackson Laboratory in Farmington, CT: (automatically translated from Korean)
"I'm working at Jackson Laboratory, a nonprofit research agency that does research and treatment development for diseases with biomedical research institutions. It's a 3-year-old company …, The campus where I'm located is only for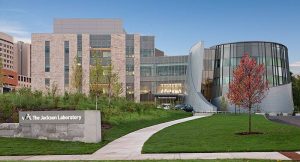 research. These are the scientists from Ivy League schools, which is because of geographical location, and I am working in a building with a Nobel prize candidate. It's a study related to the pediatric brain cancer. … The company life is so nice. It was the best thing that the company atmosphere was free, and I didn't have to care about make-up and clothes, and I had a lot of more fun than at home. Every month, there is a free e-class, and every Thursday, there is a photo course, and one Friday every quarter there is a big party, and it has been so much fun to get out of the company. In addition, there is a staff gym in the building, … and I can apply for a massage once a week. Sometimes I work in a place where I want to work in a place like this. Most of all, when I first started working, " I don't know anything, but the others seem to know everything Every time an experiment fails and a difficult situation, every time I know why I don't know why, why would I make mistakes like this? But in some moments, I've been able to admit my position and always learn to learn, so I've been feeling comfortable".