Kirsten from the UK
First, we would like to highlight Kirsten, an intern from the UK. We placed her in a host company with which we have worked for more than a decade – the San Francisco Art Exchange.

Prior to her internship at the San Francisco Art Exchange, Kirsten graduated with a degree in English Literature and Creative Writing from the University of East Anglia, in English. Over the course of her studies, she obtained extensive writing, film, editing, and theater experience worked as the Head of UK Fiction for a literary arts magazine called Crooked Teeth, and presented one of her plays, Case Number, at the Edinburgh Fringe Festival. She's also written articles for the SPCA in South Africa. She is being supervised by the Creative Director, Theron Kabrich, and the intern's contribution to the fields of communication and creative writing is very much valued by the host company, according to her supervisor. Kirsten recently wrote to us regarding her cultural activities during the program: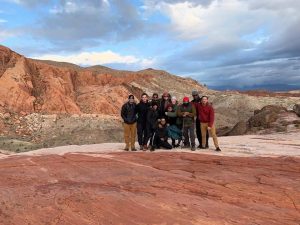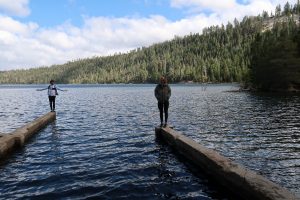 'For Thanksgiving, I went away with my new friends. We drove to Death Valley on Thanksgiving Thursday, however unfortunately we could not get into the park as the roads were snowed in. Instead, we drove to Las Vegas and day-tripped on Friday to the Valley of Fire. Here we hiked and ate pumpkin pie – it was a great time! We spent the next two days exploring Vegas and drove home on Sunday'.
Prior to that, she wrote to us:
'I joined a meet-up group in San Francisco called Tribe. Together, we drove to Lake Tahoe and stayed there for a weekend. We got to hike and explore the lake. It was beautiful and I learned a lot more about Northern California's landscape and about animals in Northern California. I also got to go to a classic American diner on the way back home'.
Valenditro from Malaysia
As yet another program success story, we'd like to highlight the internship of Valenditro from Malaysia. He holds a Bachelor of Mass Communication (Hons) in Public Relations from the Universiti Teknologi MARA (UiTM) Shah Alam, Malaysia. His thesis was titled: The Effectiveness of Social Marketing Theory with The Endorsement of Social Media Influencer Among Youths in Klang Valley. His host company is Lobeline Communications, Inc., a Los Angeles-based public relations and communications firm offering strategic, results-oriented solutions that are custom designed to meet the needs of each individual client.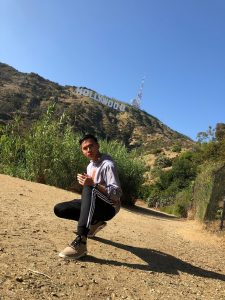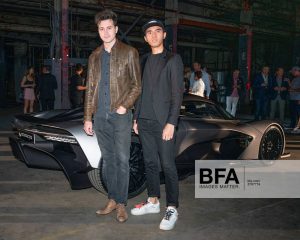 Valenditro assists staff in matters of social media management, media relations, media outreach, brand management, photography, and videography. His supervisor was so impressed with Valenditro's performance that the host company inquired with us about an extension, which we ultimately granted. Valenditro has taken part in many cultural activities. Recently, he reported to us:
'The first photo is visiting the Hollywood sign. The second photo is me at a work event with Wonder Woman actor, Spencer Trinwith at the Aston Martin car launch event in Beverly Hills. The cultural experience has taught me a lot about American culture and values. My friends are welcoming and it's not that much of a different back home in Kuala Lumpur. Food is amazing!'.