The Benefits of Doing an International Exchange Program in the USA
Studying, interning, and living in another country is a life-changing experience. It is without question that making the decision to live abroad can be difficult, and it takes courage to step out of your comfort zone and embrace the challenges that come with it. Fortunately, the benefits of living abroad will enrich your life in ways that you haven't even imagined. Whether you are thinking of studying, interning, or working abroad, here are just a few of the many benefits that come with this amazing opportunity.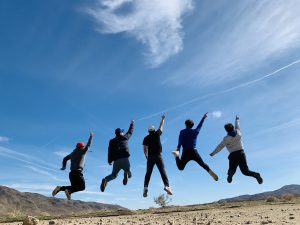 1. International experience will make you desirable for future employment
If you are looking for a way to stand out in a sea of resumes, then participating in an international exchange program is a great way to set yourself apart. Living abroad shows that you are open to learning about new cultures and languages. It also displays that you are an adaptable person who's capable of adjusting to new environments and unafraid of taking on challenges. If you are interning abroad, you will learn hands-on skills that will be directly applicable to your desired field of profession. Whether you want to become a digital marketing guru, an innovative engineer, or have an impact in local communities by volunteering with a non-profit, an internship abroad can push you ahead in your career. With a combination of intercultural soft skills and applicable hard skills, high-profile companies will value your international experience.
2. You will have the chance to make lifelong friends and develop your professional network
While you are living abroad you will meet people from all walks of life. Whether it's at work, at your favorite coffee shop, or your neighbors across the hall. The friends you make while you're living in another country will provide you with fresh perspectives, insights, and ideas that can expand your mindset. The experiences that you'll have with these people often result in lifelong friendships.
Aside from the great friends that you will make, you'll also have the chance to meet people in your professional field while you're working and studying. Your bosses, professors, and peers, will be people you can learn from. Watch your professional connections grow as you live abroad. You may even meet people who will introduce you to new career paths and opportunities.
3. Improve your foreign language and communication skills
When you live abroad you'll have the opportunity to improve your language and communication skills. No matter what field you're in, companies value employees who can communicate clearly and effectively. Living abroad will help you to develop intercultural communication skills that can be applied to any career. You'll have the chance to improve your English by practicing with others, as it tends to be a good starting point. There will be opportunities for you to take language courses and to immerse yourself in the language of your choosing. Depending on where you live, you may even pick up other languages as well. From English and Spanish to Arabic and Chinese, you'll be able to learn words, phrases and slang from your school, places you visit, and the friends that you surround yourself with.
4. Broaden your global awareness
One of the most important aspects of living abroad is that you can learn something new everyday. Beyond mastering the native language of the new country you are in, there are many more subtle experiences and knowledge gained just from living in a foreign environment. By interacting with locals you will learn new perspectives as well as learn how to better empathize with people who come from different backgrounds and outlooks. You will be able to experience first hand the many cultural differences, such as business culture, the political system, dating culture, local history, etc.
5. Experience the change that you have been longing for, discover more about yourself, and plan your future
At a certain point in our lives, we all stop and think about what it would be like to pack our bags and move somewhere else. Some consider it for professional motives while others move abroad to reunite with family, friends, and loved ones. If you feel like you need a change or want something new and exciting to your life, then living abroad is certainly a life-changer. When you live abroad, it opens your eyes to a world of possibilities and can offer many new activities and interests that you may never have discovered if you'd stayed at home. You may discover a new passion, fall in love with a new culture, gain a new favorite food, or try a new sport you didn't even know existed. Moving to a foreign country is no doubt a challenge, but one that comes with immense knowledge, experiences and personal growth. So why not go abroad?